We collected our B4 Inscription Pro in September or October 2020. Since then, the car has barely done any miles due to lockdowns etc.
In fact, it's done 529 miles. Yesterday I used it to take an elderly relative to get a Covid jab and on the way home, whilst on the motorway, a couple of warning messages popped up.
Firstly, the message said the engine was too hot and I should drive slowly. This then escalated to Engine too hot, stop safely. So, on to the hard shoulder (thankfully I had left the "smart motorway" section and was a stretch of old fashioned "dumb but safe" motorway). As I came to a halt the message went away, so I pulled away again - slowly.
Second message popped up a few minutes later, warning me that the 12V battery was not charging and that I should stop. As I pulled up again, this message also disappeared.
By this time I was only 10 minutes from home, so I limped from layby to layby. Towards the end of the journey, there was a high-pitched squealing noise - akin to a slipping fan belt back in the day.
Anyway, got home, called Volvo assist and the technician came out after about 1.5 hours.
His report:
"No warnings or messages on dash, started engine and no messages, lifted bonnet and inspected engine and aux drive belt has failed".
This is what he saw under the bonnet: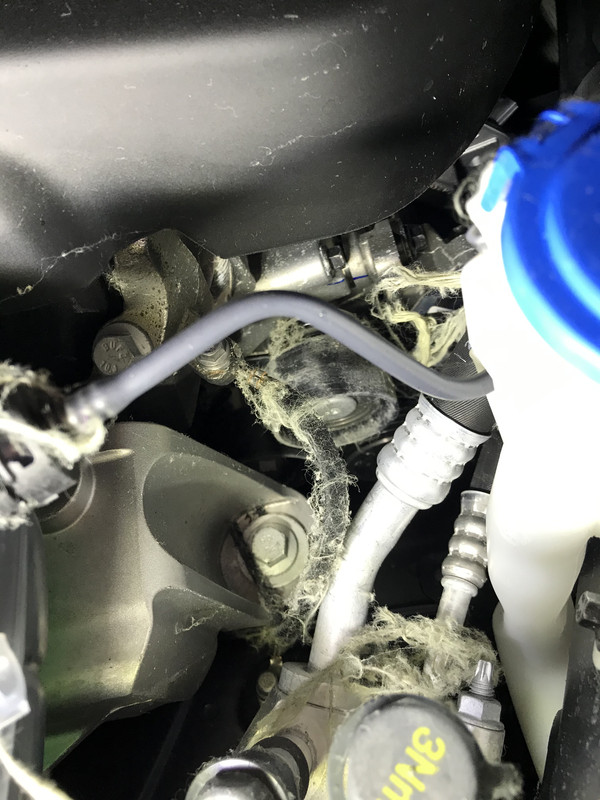 All that yellowish stringy gunk is the remains of the drive belt...
The car was recovered to the local dealer who informed me today that they are waiting for an auxiliary belt tensioner from Sweden...
My last three cars have been faultless Audi's, so I'm finding this fairly unimpressive.